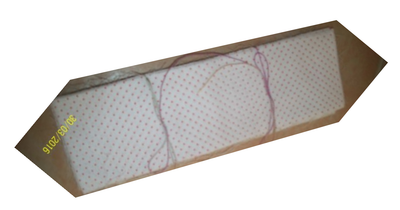 Salt Lake ASG Chapter Summer Picnic
Thursday, August 11
Location to be announced later
Be sure your Challenge is finished by then!
The Challenge Rules
Use the bundle of white fabric with the red dots in a project of your choice
Be sure the fabric is visible in your project.
About the Challenge
Included with a huge donation of fabrics from my friend, there were 3" x 10" strips of white fabric with tiny red dots bundled in perfect little groups—about 50 or so sets. A set was given to each attendee at our Annual Meeting with the challenge to use them any way you wish. If you were not at our meeting and would like to participate, check with your NG leader, who will have extra sets.
The rules are simple—use the fabrics in any project you would like and be sure that we can see them (it is okay for them to be on the inside, as long as we can see them). Get those creative juices flowing and have fun with this! Projects must be completed to be judged at our summer picnic on August 11.
Need a bundle? check with your NG leader or Tamra Schenk
We can't wait to see what you come up with!